Today I'm going to explain to you how easy is to create a Live on Instagram and Facebook and how to reproduce the Live on both platforms at the same time.
We see everyone making Live videos and even sharing live videos with other people. And the truth is that a LIVE VIDEO is an amazing tool that Instagram and Facebook are offering right now to engage with our audience and to be "there" with them in a direct video.
Our audience, target or potential customers are everywhere. Some people prefer using Facebook and some people prefer Instagram. This is something that we cannot control. And this is the reason why, if you want to reach your audience and you want to communicate to a large number of users on your social media platforms, it is better to create a Facebook Live and an Instagram Live.
– What's a Live Video?
– Why is a LIVE Video important?
– How do I start a LIVE Video on Instagram?
– How do I start a LIVE Video on Facebook?
– How do I start a Live on Facebook and Instagram at the same time?
– What tools do you need to start a LIVE VIDEO?
First of all, let's understand the theory…
What's a Live Video?
A LIVE video is a direct video that you create on platforms like Facebook and Instagram, where during no more than 60 minutes you can be "on-air" with your audience. Your audience or users will be able to ask you questions and interact with what you are telling them or showing them in that exact moment.
Why is a LIVE video important?
If your business offers products or services, it is important to show up on social media and be next to your customers or potential ones. If in your business, you create LIVE videos talking about one product, or how can your service help your clients, you will have a lot more possibilities to engage with your audience.
Here is how to do a Live video!
How do I start a LIVE video on Instagram?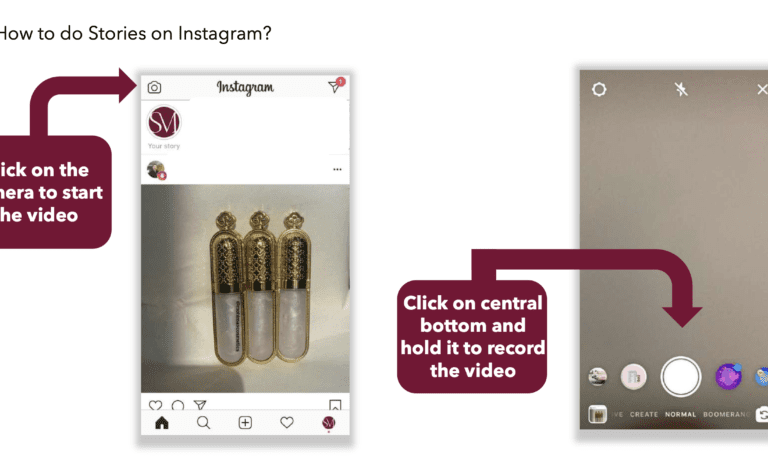 In the image you see how to do stories on Instagram. Instead of stayin on the "Normal" option (right image), scroll the menu to the right until you see "Live".
How do I start a LIVE video on Facebook?
1. Click Create Post at the top of your News Feed.
2. Click the 3 dots, then click Live Video.
3. Write something about your live video.
4. Click Go Live in the bottom right.
*As Facebook recommends, use the Google Chrome web browser to go live from your computer.
And now, one of the most asked questions…
How do I start a Live on Facebook and Instagram at the same time?
Let me tell you that there is no way to create a Live video using one phone and send it to 2 different platforms. (I wish we could! This would make things a lot easier with our clients!)
However, there is a way to start a LIVE video on Facebook and Instagram at the same time. For this, you will need to start a LIVE video on Facebook from your computer and start a Live on Instagram from another device.
Here is step by step:
Step 1: Get a laptop and start a Live Video on Facebook
Step 2: Place a phone next to your laptop and start a Live Video on Instagram
Easy?
This time you will need to use:
– A phone, with a tripod
– A laptop with a camera
Do you want to know step by step how to make a Live Video? In our YouTube Channel will find a video where I explain it step by step. Go and see the video here!
Please, do not hesitate to comment below if you have any questions about how you can implement changes in your business, I would be very happy if I can help you with it!
If you prefer, you can send me an email here
You might be interested in…
I am Maria Lafuente, CEO of Serendipity Marketing. I help entrepreneurs and business owners to succeed in their businesses and to acquire the right marketing skills.
I am a business owner, investor, marketing specialist and speaker.
Would you like to stay in touch?